Spring Synod met on the 6th April at Emmanuel Academy in Gateshead. The theme for the day was small group discipleship, this comes from the District Mission Plan and is one of the three areas of focus for the district at this time.
Synod started with worship led by Rowlands Gill Methodist Church's band and Stephen Lindridge welcomed everyone to synod. Synod agreed the appointment of a new deputy chair, Revd Jennifer Porterpryde, who will take over from the Revd Gill Welsh who is moving on in September.
Stephen Lindridge then introduced synod to the theme for the day, Small Group Discipleship.
Why? – Because God is relational and created us in his image and likeness. To be in relationship with God and with others.
How? – Like Jesus! He gathered a small group around him who he lived alongside. He taught them and sent them out to make more disciples.
What? – To deepen discipleship, to follow Jesus throughout life. To take up the practices of the church. To eat together, pray together, learn together, who do mission together.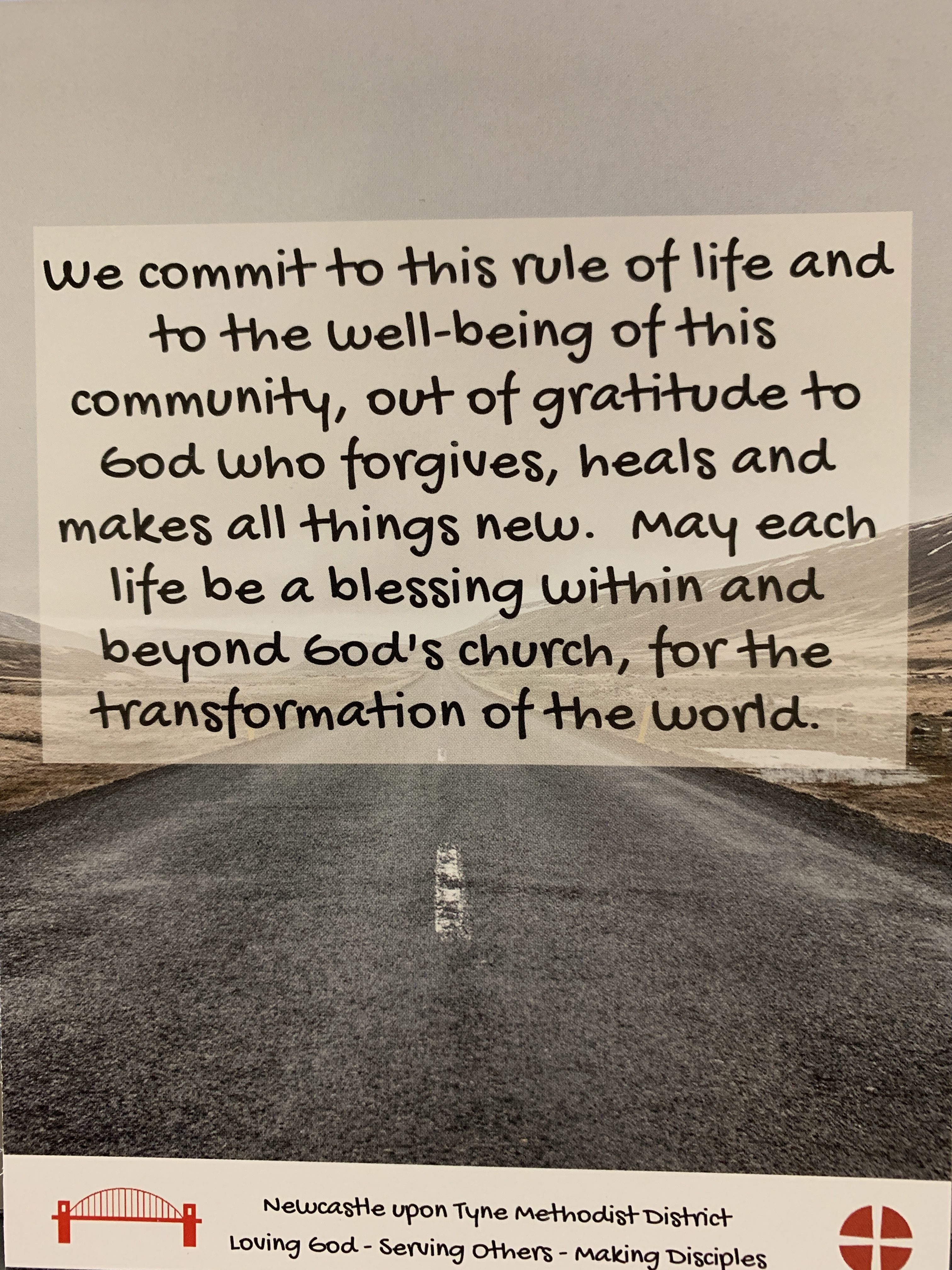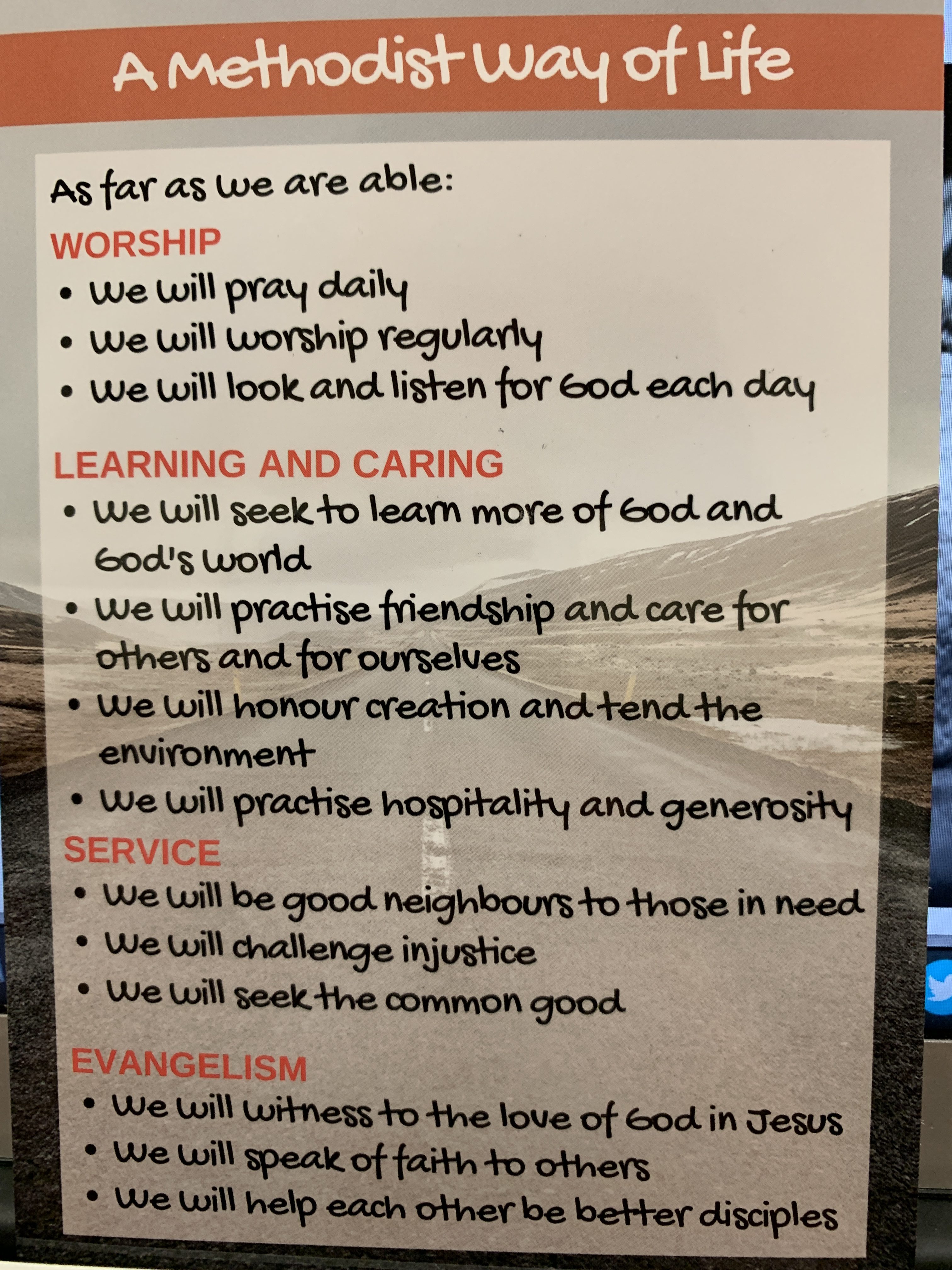 Who? – Anyone and everyone can be part of this.
Stories and Testimonies
Deborah Wainwright – Shared about the work she did in South Shields and the work she has been involved with fellowship groups. The work started with Advent and Lent groups meeting in cafes and houses. This developed into membership classes (they had 23 people attend the first one). 8 of those people became members and decided to continue to meet once a month together as they attended different churches on a Sunday.
Adam Wilkinson – When he arrived in his role as student worker at Jesmond Methodist Church there were 5 people on the student and young adult pastoral list. They met in life groups each week to study the bible and to share in the highs and lows of life. They now have 35 people on that list.
This growth has brought issues that have had to be worked out so that the discipleship of these people could continue. In order to continue with the Life group they have developed 'pods', where 3's and 4's meet together at other times. This journey has been exciting and a blessing from God and Adam encouraged us all to continue to seek him and his call for ourselves, our churches and circuits.
Cuba
Elaine, Ruth and Sam Lindridge shared about their time in Cuba seeing the work of God that is taken place in the Methodist Church in that country.
The main Methodist Church in Havana has 3000+ members and over 120 small groups. Ruth spoke of the honesty and vulnerability that was displayed in the gathered worship in the church. She also shared how at every church and in every gathering there was opportunity for people to respond to the good news.
Sam then shared how the Methodist Church in Cuba went about its mission. He spoke of a small group of people that would go out to places with no church and they would seek to plant churches there. These people had felt a call from God and they would be sent (without training) to those places. They would start in a house with 2's and 3's and as this grew they would look for somewhere to host them. when the numbers reached 25/30 they would now call this group a church. The initial leader would then go for training and then be sent on to look after a church somewhere else. These 25/30 people would continue to grow and eventually would be sent from there to plan churches elsewhere. The cycle would then continue.
Elaine rounded up with the encouragement that the church in Cuba focusses on evangelism, worship, and small groups. This is the same focus as our District Mission Plan and is God's plan for the district.
District Evangelism Enabler
Together Mission
Elaine Lindridge reported that David Brown had been appointed as the part time Together Mission worker.
Church Plant
Chester-Le-Street Methodist Circuit has taken the step to plant a church in an estate that currently has no church. This will be partnered with a Latin American Missionary who will come and join them.
Harvest Hands
This continues to happen at 10am every Monday as we pray for God to bring harvest hands. David and this missionary are part of the answer to this.
ECG – 8th June to coincide with Thy Kingdom Come.
The Story Project
Tuesday 25th June – at Wrekenton Methodist Community Church.
Safeguarding
Carolyn Godfrey spoke of the importance of safeguarding and some of the developments both inside and outside the Methodist Church.
Servicing and Resourcing
Stuart Earl reported on the work of servicing and resourcing in the year. He also spoke of the changes being made to the group from September. This is a coming together of the current groups that deal with property and finance across the district. This is a missional move that will seek to meet the needs of the District Mission Plan going forward.