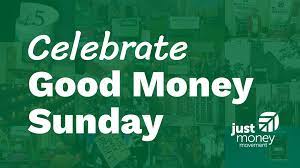 Sunday 8th October was the first ever Good Money Sunday. Organised by the Just Money Movement, the day aimed to raise awareness of ethical use of money, encouraging Christians to spend and save with organisations who use money well for the good of the planet and people.
Whether we have a lot or a little, we can all choose to spend or save wisely and in line with our Christian values of acting justly, loving one another and caring for creation.
In some cases it might be necessary to do a bit of detective work, to find out where our money is going. For example, you may be surprised to find out which well known high street brands who don't consistently pay the national minimum wage (this is the government defined statutory hourly rate and is set in law). When companies break the law by failing to pay national minimum wage, it is always the lowest paid who are affected. Do we want to spend our money with organisations who do this?
And then there is the banking sector, at least 4 of the top UK banks invest in fossil fuels which are destroying God's creation. The Bank.Green website (link below) allows you to easily check how your bank measures up.
So what can we do?
Well its relatively straightforward to change our buying habits and spend our money with ethical organisations, its also surprisingly straightforward to change our bank.  The current account switch service makes changing accounts very easy to do – but critically, we need to tell our banks and the organisations we shop with why we're changing and not just make the switch. 
We also have the opportunity to lobby organisations by writing letters/emails to ask them to change their approach and in some cases to ask them to change who they bank with.
Here are some useful websites:
https://www.gov.uk/government/news/more-than-200-companies-named-for-not-paying-staff-minimum-wage
"The earth is the Lord's and everything that is in it, the world and all who live in it." 

Psalm 24 verse 1